Over the summer students from Warwick High School had the opportunity to travel to Costa Rica as part of a nine-day Service-Learning trip. They spent the majority of the time learning about the importance of coastline conservation and biodiversity — something that the country of Costa Rica does with great success.  Students had the chance to be part of the solution to several environmental challenges, including coastline erosion, species extinction through loss of habitat, and sustainable farming. Throughout the trip Warwick students were able to do their part by replanting mangroves stands along the bays and almond trees along the coast, helping to prevent coastline erosion and provide a safe breeding ground for hundreds of species of fish. They also got a firsthand look into sustainable crocodile farming, while not a crocodile's dream, this is a better option than extinction.
This experience offered students firsthand learning into stabilizing ecosystems through the efforts of conservation and protecting biodiversity.  With a day spent in the central Pacific coast area, they toured mangroves and protected areas, collected seeds, visited a nursery while learning planting and watering techniques and processes.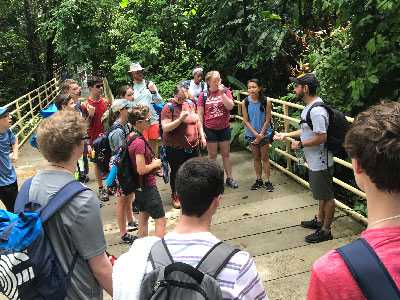 After long days of learning, students also had the chance to have some fun by traveling to the Arenal Region to visit natural hot springs, the cloud forests, and breathtaking waterfalls. They were able to enjoy a ziplining canopy tour and take in scenic views during a kayaking with Arenal Volcano as the backdrop. Students even got to practice their Spanish for a friendly game of soccer with local high school students and take a tour of a coffee plantation.