Warwick High School recently held its 21st annual Science Fair.  The fair had a series of events from the community open house taking place Wednesday, March 6th, to the actual judging and concluding with an awards ceremony on Monday, March 11th, 2019.  
The Science Fair Community Night was well attended by students, families, and the public.  This was an opportunity for the science department to showcase some of the latest equipment that's being used for the science fair as well as in the classroom.  
"Our goal for the community night was to get students that aren't in the high school quite yet excited about science and to see what they may be able to do in the future," stated Mr. Doug Blamer, a science teacher at the Warwick High School.  
Students completed projects in a variety of areas, including animal and plant sciences, biomedical and health science, chemistry, material science and much more.  After spending weeks and weeks conducting research, recording results and assembling their projects the winners of each category were announced, below are the results:
Overall Grand Champion: Elle Herritt, "The Effect of Copper Ion Concentration on the Antimicrobial Activity of Polyvinyl  Alcohol Film"
Champion: Trey Watts, "Slimy Navigator: Using Slime Mold to create more efficient roads in Pennsylvania
Reserve Champion: Elise Balmer, "The Effect of Different Fertilizers on the Nitrogen, Phosphorus, Potassium, and pH in Soil"
Animal and Plant Sciences:
1st Place: Benjamin Sedlmyer, "Finding the Max Velocity for the Production of Carbon Dioxide"
2nd Place: Rachel Bonner
3rd Place: Sarah Stygler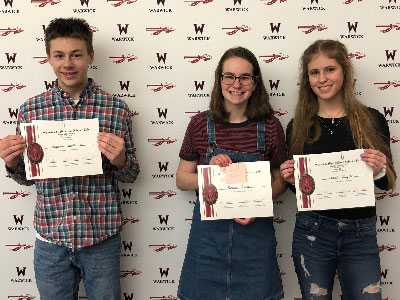 Biomedical & Health Sciences:
1st Place: Alex Barney, "Colored E. Coli"
2nd Place: Haley Delgiacco
3rd Place: Ben DuBosq
Honorable Mention: Shaddy Makhlouf
Chemistry (Inorganic and Organic):
1st Place: Rebecca Hoyer, "The Effect of Biodiesel on the Heat of Combustion of Biodiesel/Diesel Blends"
2nd Place: Andrew McCracken
3rd Place: Jonathan Martin
Honorable Mentions: Andrew Matt and Darius Moreno
Earth & Environmental Sciences:
1st Place: Mary Kate Bomberger, "Cry Me a River Blue: The Effect of Magnetic Nanoparticles on the Absorption of Methylene Blue"
2nd Place: Leah Medvedev
3rd Place: Cheria Esbenshade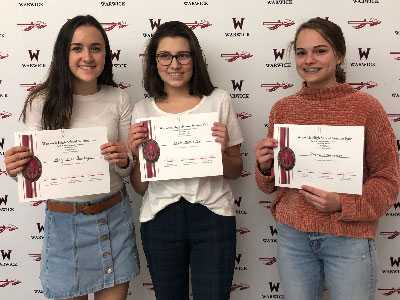 Material Science:
1st Place: Gavin Troop, "Space Tiles: Can trash block space radiation?"
2nd Place: Amber Houser
3rd Place: Eva Gallagher
Honorable Mention: Sam Lynch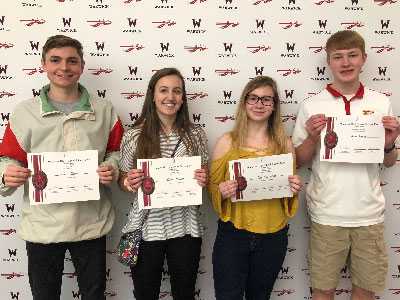 Microbiology, Biochemistry, & Molecular Biology:
1st Place: Hope Davis, "The Antibiotic Efficiency of Honey and Silver Nanoparticles"
2nd Place: Abigail Weaver
Honorable Mention: Aurora Neff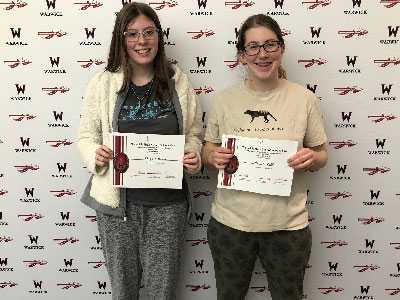 The Llana Clauss Student High School Science Fair Coordinator Award: Parker Keares
The People's Choice Award for the most popular project at Community Night: Benjamin Sedlmyer
Congratulations to all the participants in this year's science fair.  Projects will now be submitted to the 67th Annual North Museum Science and Engineering Fair happening Thursday, March 14th at Millersville University.